It's been so long since I last blogged that the post before this one dates from far back in the Before Times, pre-Covid and lockdown. Now, wth spring in the air, it's royalty statement season, and as I chase up translations of old, I was reminded of a very fun thing from lockdown last year, organised to coincide with Halloween (about which I've blogged here in the past – see "Translators and their skulls"). The thing in question was a menu feature and live Instagram wine tasting inspired by Gabrielle Wittkop's Venetian poisonfest MURDER MOST SERENE (Wakefield Press, 2016) in my translation. No poisons included, thankfully, but (vegetarians beware) a pigeon and some cuttlefish may have died by other means to be included in the marvellous meal cooked up by the Paris Review's resident food writer, Valerie Stivers. Like everyone, I've been discovering the joys of live online events over the past twelve months, and this one was a highlight. The time-lag with the East Coast kept me up way past midnight, and things were a tad complicated by the fact that my Insta isn't in my name – it showcases my retreat in the old home town, in South Wales, which (again due to Covid) I haven't been able to visit for over a year. But I sat in and drank along regardless! I can't get home again to Wales right now, but plenty of others have enjoyed it instead – it's great for folk who like to hike by day and write or translate, or cook and eat and drink, by night. (The latest writer-and-anthologist-in-residence was researching a book about the Wye Valley).
Anyway, here's the link to Valerie's amazing photographs and recipes, and the accompanying wines chosen by Hank Zona – a delightful and unusual treat in this literary translatory life 🙂
https://www.theparisreview.org/blog/2020/10/30/cooking-with-gabrielle-wittkop/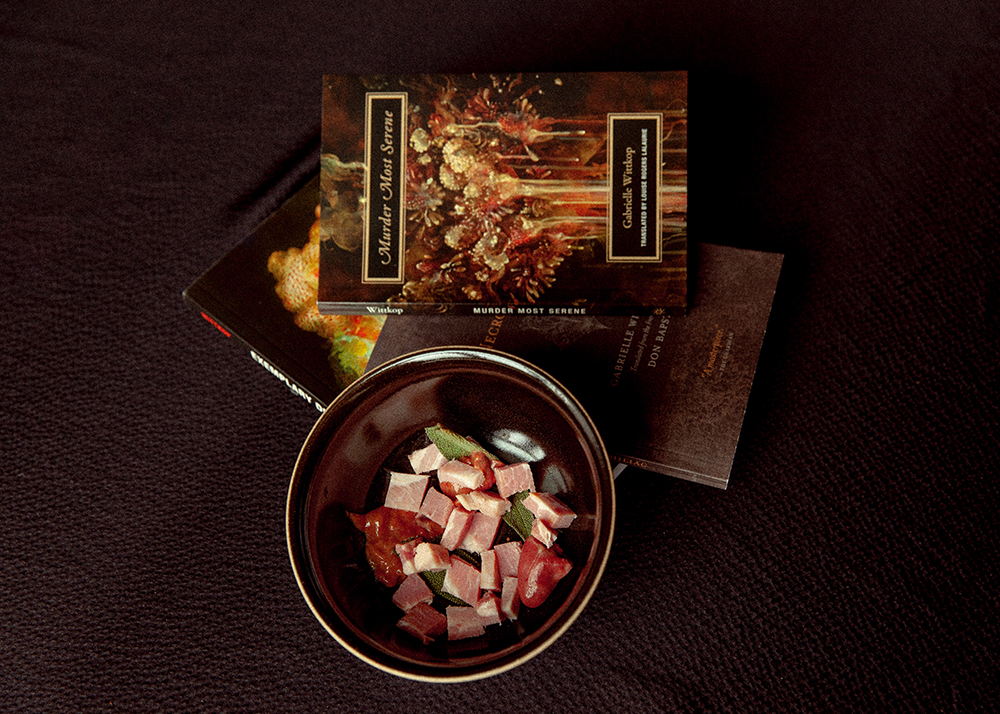 Also pictured are the two other Wittkop titles currently available in English: EXEMPLARY DEPARTURES (Wakefield Press, 2016, tr. Annette David) gives fictionalised accounts of some sensational true-life deaths, including Bangkok silk merchant and possible CIA agent Jim Thompson. THE NECROPHILIAC (ECW Press, 2011, tr. Don Pabst) does, er, what it says on the cover and was hailed as a masterpiece by Nicholas Lezard in the Guardian. Gabrielle's centenary celebrations, scheduled for last autumn in Paris, were another casualty of lockdown. She was born at the tail end of the Spanish flu. What would she have made of the Covid crisis, I wonder?